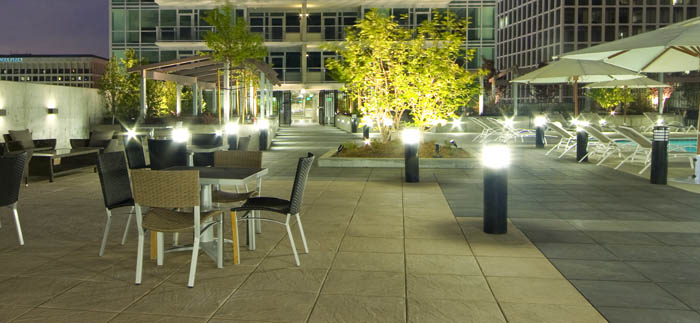 Specializing in a European style of Architectural Pavers, Tile Tech is an American company with decades of experience in the production of Pavers, Architectural Pavers, Pedestal Pavers, deck pavers & matching stair treads.
Our state-of-the-art equipment is unique to the Western United States and produces the highest quality Porcelain Pavers & Architectural Pavers.
These Architectural Pavers incorporate marble and granite particles in a light color cement matrix for a decorative top layer, which is pressure-bonded or Hydra Pressed to a bottom layer of sand and cement for added strength. The resulting product boasts a compressive strength many times that of concrete and traditional modular pavers & paving units.Concrete Pavers give functional beauty while making walkways, driveways, roof decks, pool decking, patio areas, and streets capes virtual works of art.
The decorative surface is ground & polished to expose the natural beauty of the aggregates which can also be shot blasted to meet all necessary slip resistance requirements for outdoor use.