Pool Copings™ Series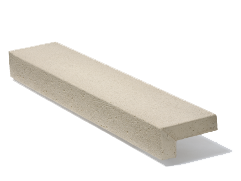 Colors



Product Features

In addition to various other complimentary products, we also manufacture various sizes & profiles of reinforced pool coping pavers, stair treads and rises to match our Granite-Tech™ or Stamp-Tech™ colors. Pool deck areas particularly benefit, as the paver and the pool coping can be of the same finished material. Now the designer can maintain one continuous paving pattern, including edge pieces.

Custom Colors & Designs

Design possibilities are endless with a unlimited choice of colors & aggregate mixes. The surface can be polished or shot blasted for added slip resistant qualities.

Superior Wear Resistance

The use of crushed recycled granite not only adds unrivaled beauty to any project it is also a highly durable and eco-friendly alternative.

Superior Strength

The use of rebar and fiber reinforcements give added value and strength to all our pool coping pavers and stair treads and are easily cut for customization .

Pool Coping Pavers Features

Pool coping pavers can be a necessary and attractive feature you can add to your swimming pool. You can select from a variety of beautiful styles and materials. Pool coping is a significant finishing method for any type of pool. Coping is the border placed atop a pool, sealing off the pool structure or shell from along its edges. It can also help to protect the external surfaces of the pool from potential water damage that may arise.

Pool coping pavers can work as much as for beautification as for functionality. It can provide and define a polished edge to any swimming pool. It can also tie the pool pave area, which typically spreads from an open living area and into the water.

A lot of in-ground swimming pools may utilize the surrounding outdoor region with some eye-catching paving, and this is where pool coping comes to become a prominent feature. Interior designers may select the kind of coping that matches the pool interior and decking, or a kind that contrasts for a more unique appearance.

The materials appropriate for pool coping pavers can be obtained from pool stores or paving suppliers. Brick, natural stone, and concrete are among the more popular choices with several various designs to suit the design of your pool area. A number of other trendy coping pavers and tiles are made from slate, sandstone, or limestone, and may be visually improved with a complementing mortar.

There are a few varying types of pool coping pavers, some are rounded, while others have square edges. A common type is known as bull-nose coping, which is a very secure and sturdy alternative. It has a rounded edge, which makes it very easy to set up. A cantilever type of paver has a boxier appearance and is much more flexible for handling varied surrounds.

An above-ground pool may also require an edging protection. Usually, it uses some sort of coping in order to seal off the pool's surrounds and offer enough space for someone to stand on before going into the water.

No matter what material you end up choosing, be certain that it is nonslip so that the swimmers have a steady grip before going into the pool. You may also need to make sure that the coping can withstand the elements since it will be exposed to sunlight and water. To find the best pool coping pavers for your pool, consult a local paving professional.
Download