IPE Deck Tiles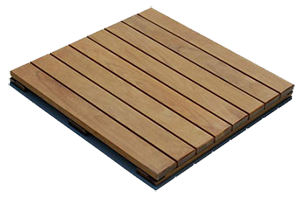 Sizes

Standard Sizes:

20"x20"x1-½"

24"x 24"x1-⅝"

24"x 48"x1-⅝"

.

.

Custom Sizes:

.

.

.

.

.

Weight:

 6lbs per sq.ft Average.
Product Features

IPE Deck Tiles Features

IPE Deck Tiles are designed for constructing raised wood decks over exterior surfaces such as rooftops, terraces and plazas, in both residential and commercial applications.

Tile Tech's IPE Wood Tiles are constructed from kiln dried 1×3 IPE wood face slats secured to 3 IPE wood support runners (battens) using corrosion resistant stainless steel screws. Due to their high structural strength, dimensional stability and low flexing.

IPE Decking have the most modern style so far. These tiles are made out of certified ipe wood lumber, also pronounced EPAY wood, consisting of Tabebuia species, which is deemed as the most vital substance. They are intertwining tiles that are made out of IPE lumber. These days, they are used to make decks and are growing more and more popular among homeowners who have a luxurious preference. When this kind of tiling is set up on your deck, they can create a continuous intertwining design on the surface. Replacing or removing them are just as simple as setting them up, as well.

IPE Deck Tiles have curve cut slots on every corner that permit them to fit perfectly into pedestal supports and permit water to drain beneath the deck, unlike the traditional wood deck tiles in which water can just seep through them. Proprietors can select from two tile designs: straight or staggered style. Locals of California typically opt for the straight style due to its straight pattern, similar to the appearance of most wooden decks. However, there are also some who select the brick design in order to imitate the look of actual bricks.

The straight and staggered style are the two IPE Deck Tiles that are most appropriate for decks. But, if you want something more luxurious or decorative, you may select the Sierra design, which is most suitable for borders or centerpieces. The advantage of this design is that it does not require you to follow particular instructions, which makes it very simple to set up. Such tiles can be customized to satisfy your preferences, as well. If you dislike rough edges, you may have straight reducers in order to smooth out the outer edges of your decking. You may even have corner reducers, which are able to easily clip out corners in order to get rid of jagged edges or simply to give your deck tiles an elegant polish.

Installing IPE Decking is easy compared to other tiles. If you opt to do it yourself, you'll be given an installation toolkit that includes corrosion resistant screws. It is up to you and your planned design whether you use them or not. If you decide to use only the deck planks, you may require the screws in order to make sure that the wood deck slats hold perfectly onto the wood frame. You won't need to purchase bases or other polishes anymore, since the IPE Deck Tiles are painted with preservative oil.

IPE Deck Tiles are specifically designed for installation on our pedestal supports, enabling decks with a perfectly horizontal surface to be built over sloping or irregular surfaces. Pedestals can be either fixed height or adjustable for slop compensation. The Pedestal System provide a broad footprint that can easily be installed and placed directly on top of roofing and waterproofing systems with no insulation.

Smooth Surface

Structural IPE Deck tiles is our most popular tile and exceeds the Americans with Disabilities Act requirements for Static Coefficient of friction in a wet environment (ASTM-C1028-89)

Grooved Surface

Structural IPE Deck tiles provide the highest slip resistance for wet climates. often specified when added slip resistance is desired but not required.

Sealed or Weathered

IPE Deck Tiles can be sealed to maintain its natural beauty or it can be allowed to weather to a beautiful silver gray. To retain the rich color, an oil based finish with ultraviolet inhibitors is recommended.

Commercial Duty

Constructed with 7/8" thick boards for extra strength and resistance to flexing. Slot cut corner of IPE Deck Tiles enables a special washer to be inserted and invisibly screwed to the top of the pedestal, locking down the tiles and ensuring a safe, secure and level surface.

Our PATENTED Hybrid pedestal system is designed for IPE Deck Tiles to lock down & lay level over a built up roof decks.
Download