Sealing your pavers with Concrete Paver Sealer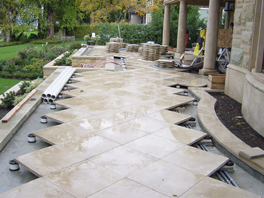 Sealing and re-sealing your pavers is the most important and effective maintenance procedure. The coating of sealer will enhance the brightness of the color of your pavers, and it will enable the pavers to maintain that brightness over a long period of time.
Sealing your pavements will help protect it, clean it and maintain its beauty for much longer. Concrete paver sealer gives your pavers a protective coating, so if you stain it with oil or grease, it is much easier to remove than it would be if your pavers were not sealed.
So you can see that concrete paver sealer is the best way to maintain that new look to your driveways, patios and walkways.
It leaves a clear gloss finish, making the color brighter, while repelling grease and oil stains. Sealing your pavers helps to promote durability, longevity and the overall aesthetic beauty of your paved areas.
Two Main Types of Concrete Paver Sealer
Film Formers
This type of sealer helps to protect your pavers by blocking the effects of water and other contaminants. Film Formers generate a barrier on the surface of the pavers, often a gloss finish. This sheen finish also helps pro-long that new look color.
Penetrants
This type of sealer actually penetrates into the pavers' material, from 1 to 4 mils deep. These sealers are mostly used for absorbent materials, such as, concrete. Penetrants help to repel water and resist stain damage. Penetrant sealers also promote longevity and durability of the life and look of your pavers.
Applications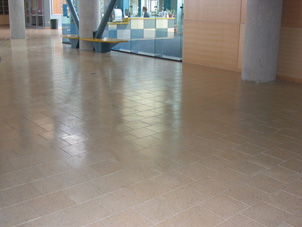 Sealing agents can be applied to most types of surface pavement materials. These include; concrete, slate, clay, granite, natural stone, stamped concrete and block pavers.
You can apply sealer agents to your driveway, patios, balconies, surrounding the pool, terraces and car parks. Wherever sealers are used, the result is always a cleaner, brighter, long-lasting and beautiful pavement.
Benefits of Sealing Pavers
Helps repel water damage
Helps repel stains caused by oil, grease and grime etc
Makes cleaning a breeze
Enhances color brightness and life-span
Prevents loss of sand in joints
Prevents the effects of snow and ice
Will strengthen the pavement
Helps retain paver flexibility
Can withstand harsh weather conditions
Reduces paver loosening and cracks
Acts as a dust proofer
Restricts weed and grass growth
Helps prevent efflorescenc