Rubber Patio Pavers Introduction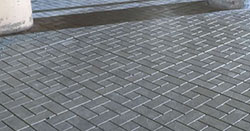 Flooring and pavers made from rubber are practical material usually used for locations that require features for safety, durability, ease of installation and versatility. Rubber patio pavers are popular because of these benefits and more. Can be made from recycled tire rubber, they are attractive, maintenance free, durable and non-slip flooring that is very durable. Also available in a variety of sizes that will suit different uses and applications and any dimension requirements. Its durability can withstand abuse ad constant use. It can be installed with adhesives or interlocking designs may be chosen that can be replaced and removed easily. It is available in a variety of colors that are bound to match your chosen design scheme.
Rubber patio pavers are known for their safety feature. They have a very high slip resistance and it is also an effective material for shock absorption. This makes them the safest choice for paving areas of high-traffic, notably for places for playing and other physical activities. Rubber pavers are also environmentally friendly. As they are made from a combination of recycled unused tires and binding agents such as polyurethane. Rubber is also durable and long-lasting. They naturally resist chip, crack and wear, are sound-proof and has a low cost. It is low maintenance, easy to clean and not affected by any extreme weather condition.
Rubber Patio Pavers Application
Being a very versatile and beneficial paving material, rubber patio pavers have a rather wide range of applications. They are adaptable to interior and exterior uses. They are available in myriad of patterns, textures, finishes and colors. Because of their popularity, there is bound to be a specification that will fit your project preference. It is practical for heavy-duty use for both indoor and outdoor applications that expect a lot of traffic and use-abuse. It is also resistant to snow, wet and extremes in temperature, hence the adaptability to various locations. It is very safe and slip-resistant so it works well with children and physical activities.
Rubber Patio Pavers Installation
Commonly, there are square and rectangular rubber patio pavers that require adhesives upon installation. However, new shapes are made for the new uses defined. Shapes like the "dog-bone" and the "Z-brick" are made to make way for design freedom. The variety in the tile shapes gave way to new pattern to be made. Interlocking shapes are used for projects that prefer easy installation that do not need adhesives. The patterns available for and spacer tabs give design flexibility even while choosing the option for safety, strength and durability reasons.